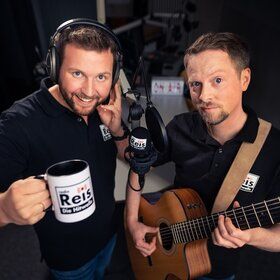 Onkel Hanke und Philipp Kasburg kredenzen euch einen Liederabend, an dem wohlbekannte All-Time-Faves zu pointierten Geschichten umgedichtet werden. Reis Against The Spülmachine covern Elvis, die Beastie Boys und Rolf Bukowski auf ihre ganz eigene Art und Weise – was dabei rauskommt, müsst ihr live erleben!

Sind sie eine Coverband? Ein Sternekoch-Duo? Oder zwei Songslammer, die ihre persönliche Nische gefunden haben? Der Name Reis Against The Spülmachine lädt zu Spekulationen ein, was von den beiden Oldenburgern natürlich nicht ganz ungewollt ist. Sie selbst beschreiben ihre Musik als "Liedermacher-Klamauk mit etwas Niveau" – doch wenn wir mal ehrlich sein sollen, ist auch diese Erklärung nicht hilfreich. Wie kann man sich einen Konzertabend mit den beiden also vorstellen? Aus Amy Winehouses "Valery" wird ein Song zu Suppengemüse, bei dem alle im Chor "Sellerie" grölen. Elvis' tragische Hymne "In the Ghetto" wird transformiert zu einer Stichelei gegen Discounter und trägt den Titel "In the Netto". Manchmal sind die beiden sogar gesellschaftskritisch, nehmen sich selbst aber nie zu ernst.

Wie wäre es mal mit einem echten Serviervorschlag, der Ihnen das Wasser in Mund und Tränenkanälen zusammenlaufen lässt? Bei Reis Against The Spülmachine werden Amuse-Gueule, Hauptgang und Dessert musikalisch und auf einem einzigen Teller serviert – wir wünschen bon appétit!
Source: Reservix