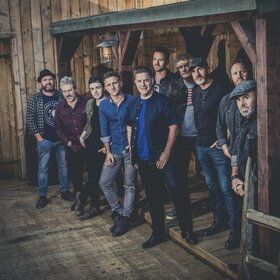 A Celebration of The Eagles
Take It To The Limit lassen die legendären Eagles 2023 noch einmal richtig hochleben! Mit ihrer "A Celebration Of The Eagles"-Tour kommen sie endlich auch zu uns nach Deutschland und spielen das Beste der Eagles live on stage. Tickets für ein Konzert mit dem Charme der 70er-Jahre gibt es jetzt bei Reservix.

"Hotel California", "Take It Easy", "New Kid In Town", "Desperado" oder "One Of These Nights" sind nur einige Hits, die den Eagles zu weltweiter Bekanntheit verhalfen. Take It To The Limit transportiert die Magie dieser Songs nun in die Gegenwart und verleiht den Songs hin und wieder eine eigene Note.

Die Idee zur Tribute-Band hatte die irischen Band "The Sheerin Family". Für die Umsetzung holten sich die sieben Brüder noch Unterstützung von Johnny Brady, Simon Casey und Nigel Connell. Die drei Sänger konnten sich bereits mit ihrer Solo-Karriere einen Namen machen und sind Stammgäste in den irischen Charts. Take It To The Limit war dann das Ergebnis der gemeinsamen Liebe zu den Eagles. Heute genießt die Band speziell in Irland großes Ansehen, wo man in den vergangen Jahren zahlreiche, ausverkaufte Konzerte spielte.

Die zehnköpfige Gruppe avanciert auf der Bühne zum stimmgewaltigen Ensemble mit reichlich Gitarrenpower. Das braucht es auch, um eine der größten Country-Rock-Bands aller Zeiten ehrwürdig zu präsentieren. Take It To The Limit gelingt das auf ganzer Linie. Erleben Sie es selbst und sichern sich heute noch ein Ticket für eine Reise zu den Eagles.
Source: Reservix