The Black Crowes - Hard to Handle - Meet & Greet Upgrade
Pfaffenwiese 301
65929
Frankfurt am Main
Event organiser:
RBK Fusion GmbH, Reichenberger Str. 36, 10999 Berlin, Deutschland
Event info
Das Hard to Handle - Meet & Greet Upgrade Package beinhaltet:

* Früher VIP Eintritt in die Venue
* Exklusives Meet & Greet mit The Black Crowes vor der Show
* Persönliches Foto mit The Black Crowes
* Sammler-Songtext-Buch "Shake Your Money Maker" signiert von The Black Crowes
* Shake Your Money Maker-Flasche
* Shake Your Money Maker-Kartendeck
* Shake Your Money Maker-Würfelset
* Offizielles Meet & Greet Lanyard
* VIP-Gastgeber vor Ort
* Sehr limitierte Auflage der Packages!
Location
Jahrhunderthalle
Pfaffenwiese 301
65929 Frankfurt am Main
Germany
Plan route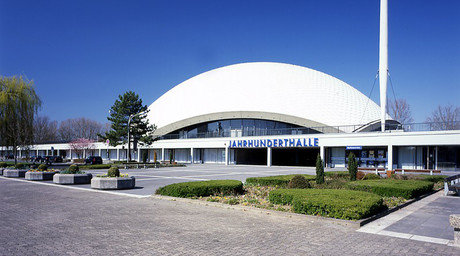 Die Jahrhunderthalle in Frankfurt am Main hat sich als internationales Kultur- und Kongresszentrum längst etabliert. Inmitten des wirtschaftlich florierenden Rhein-Main-Gebiets liegt die Halle besonders verkehrsgünstig und bietet somit den idealen Rahmen für internationale Großveranstaltungen.

Charakteristisch für die Frankfurter Jahrhunderthalle ist das in Glas eingefasste und von einer Kuppel überwölbte Auditorium. Unter dieser Sehenswürdigkeit befindet sich ein großer Saal, in dem über 2.000 Gäste Platz nehmen und die Besten der internationalen Show- und Musikszene genießen können. Die sieben Konferenzräume sind ideal für Tagungen, Seminare oder Workshops und werden gleichermaßen für kleine Ausstellungen, Bankettveranstaltungen oder private Feiern genutzt. Die moderne Architektur und die hochwertige Technikausstattung lassen jede Veranstaltung einmalig werden. Neben den ausgedehnten Grünflächen verfügt das Hallenareal über zwei Terrassen, ein Atrium, eine Wasserfläche und ca. 1.300 Gästeparkplätze. Der Frankfurter Flughafen sowie der Hauptbahnhof sind in etwa 15 Minuten zu erreichen.

In Frankfurt betraten bereits Größen wie Frank Sinatra, Jimi Hendrix, 50 Cent und Lady Gaga die Bühne des zukunftsweisenden Veranstaltungshauses. Lassen Sie sich von der einzigartigen Akustik und der außergewöhnlichen Bauweise faszinieren. Kommen Sie in das Kultur- und Kongresszentrum Jahrhunderthalle in Frankfurt am Main.