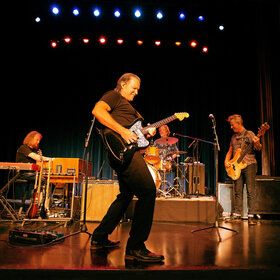 Wer seinen Stil als "Funky Southern Soul, Big City Blues and Classic Rock" bezeichnet, lässt erahnen, dass er einen sehr weiten musikalischen Horizont besitzt. Die Rede ist von dem sechsmaligen Blues Music Award Gewinner Tommy Castro, der mit The Painkillers wieder auf Tour ist. Für alle Fans handgemachter Musik ist das ein wahres Fest!

Bereits im Alter von zehn Jahren begann Tommy Castro, sich für das beliebte 6-saitige Instrument zu begeistern. Mit Vorbildern wie Eric Clapton, B.B. King und Muddy Waters war schnell klar, in welche Richtung sich auch sein eigener Musikstil entwickeln sollte. Gewürzt mit einer Prise seiner Gesangsikonen Ray Charles, Wilson Pickett und James Brown kreierte Tommy Castro einen unverkennbaren, markanten Sound. Um diesen knackig und fett auf die Bühne zu bringen, bekommt der U.S.-amerikanische Vollblutmusiker Unterstützung von The Painkillers. Und das Ergebnis kann sich mehr als hören lassen!

Bei Konzerten von Tommy Castro & The Painkillers wird gerockt, gebluest und improvisiert, bis die Griffbretter glühen. Lassen Sie sich diese lebende Legende nicht entgehen. Ein Spektakel für alle Gitarrenfans!
Source: Reservix